When you're just starting out in business, one of the hardest things is figuring out how to find your niche. Even though it can be really daunting, taking the time to really define your niche is one of the most important things you can do for your business. Not only does it make it easier to find your ideal client and ensure that your branding is appropriate, but it also gives you focus when it comes to your business.
Oftentimes new business owners aren't sure where to spend their energy or how to stay focused as a creative entrepreneur. "I love all these things, and I want to do them all!" you might think. And it's totally fine to love many things! But when it comes to finding clients, finding a specific focus is much better. It allows you to make sure that you're attracting only the right people to your business, and that way you don't have to engage in sleazy sales tactics. (Who likes doing that? Certainly not me!)
So here's your guide to finding your niche, step-by-step!

How to find your niche
Finding your niche is one part knowing what you're all about and one part describing it as best you can. You probably have a better grasp of the first one than you even realize, because it's about you and you know yourself best! Often when we're prompted, we can blurt out a whole bunch of information we didn't even know was in our brains. The second one is a bit tougher, but don't worry! We're here to sort that all out today.
There are three simple steps that you can follow to find your niche.
Think about your job title
Bring your job title to mind. Are you a teacher? A designer? An artist? An assistant? What do you actually do in your day-to-day activities?
If this is just a baby idea still, it's OK! You can also picture a future job title and what kind of work you'll be doing. Doing engineering work is very different than doing nursing work or hospitality work! Get a general idea if you can't get more specific just yet. And then move on to the next step, which will help you get specific!
Make sure it's specific
Maybe you've figured out you're a designer. But what kind of designer? A graphic designer is very different from a fashion designer, even though you both design things. An English teacher is very different from a gym teacher, even though they both teach things.
What medium will you be working with? Will you be working with clients or making products? If you're making products, are they going to be digital or physical? Is there a genre to what you do (such as in artistic or handmade businesses)? These kinds of questions should help you narrow it down, even if your idea is brand new!
Let me give you an example.
Ellen Degeneres is a host on her TV show. That's her job title and how she's listed in the show's credits. But that's not specific at all. If we ask what medium/genre she works in, we start thinking to ourselves, "OK, well she's on TV and in the talk show genre. So she's a TV talk show host."
See how that's more specific? If someone just described Ellen's job as being a host, wouldn't that feel really incomplete? It's the same with you! We want to make sure to actually capture what you are.
Now that you've got your specific job title, the niche is just one step away!
How to find a niche from a job title
Don't worry! This is the last stage of specifics that we have to go through to get a pretty solid niche!
Now that you've got a specific job title, you take the specificity to another level to get your niche!
Going back to our Ellen example, I would go so far as to say that her basic job description is a TV talk show host and to really capture what she does (her niche) is still a step away. Ellen is nothing like the person who does the "talk" segment on your local news, right?
Setting yourself apart from your competitors is exactly what your niche does. Ask yourself, "What do I do (or who do I serve) that is different from my competitors?"
For Ellen, we could say that she does these things differently (among others):
Using comedy throughout her show
Appealing to the daytime audience as opposed to late night (e.g. Jimmy Fallon)
Having progressive values
Now, let's give Ellen a few potential niches. Ellen is a TV talk show host comedian. She is also a daytime TV talk show host. She's also a progressive TV talk show host.
Any of these could serve as her niche, and it would be up to her to decide what to put focus on and market herself accordingly.
For one final example, how about my niche?
Lia is a marketing coach. But she's not just a marketing coach. She's specifically a marketing coach for women. Why? Because women are the actual best. Seriously. And I thought to myself, "If I could work with #ladybosses forever, that would be the dream!" Since I'm the boss, I get to decide who my client base will be. And so do you!!

Now try finding your own niche!
Now, take what I've done with Ellen and Lia and find your niche for yourself! Start with your specific job title, and then try asking yourself these questions:
What do I do differently than my competitors?
Who do I serve that others might not?
What quirky or specific element of my work am I most passionate about?
What am I particularly good at?
If you can answer these questions, you'll be able to find a niche you're passionate about in no time! Once you have your niche, be sure to keep it in mind while planning any business activities. This will help you create a consistent brand and attract the right clients.
What's your niche (new-found or otherwise)? Let us know in the comments! 🙂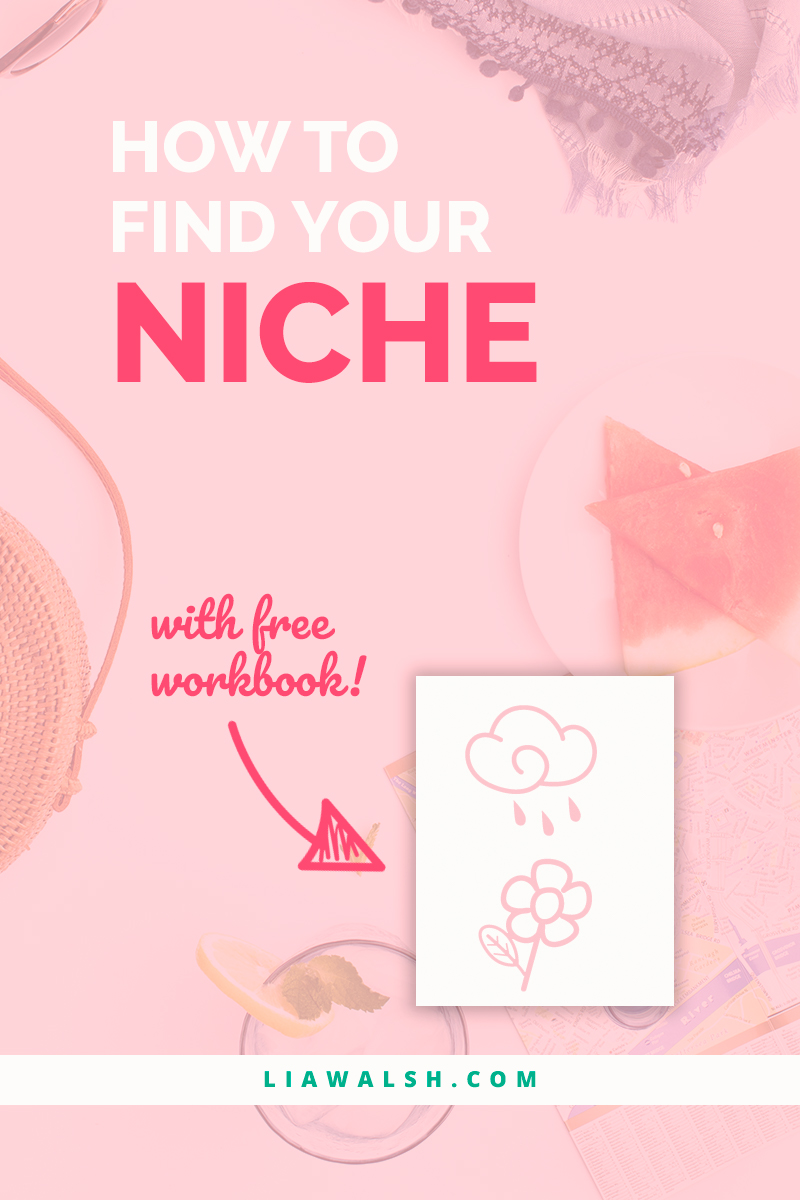 Pin this for later!