If you're not using Pinterest keyword tools in your SEO research, you're losing valuable Pinterest traffic!
Pinterest drives users to your website and having great keywords on Pinterest is an important part of that. If you're using Pinterest keyword tools correctly, you can target your audience effectively and not only get more traffic to your website, but also get higher-quality traffic.
If you need keyword tools for other platforms like Google and Amazon, be sure to check out 17 Free SEO Keyword Research Tools for additional information. But for now, let's get into the best keyword tools for Pinterest!
Pinterest search autofill
Like Google, Pinterest has an autofill or autocomplete function. This is one of the best Pinterest keyword tools of them all! It shows you what people are searching based on the first word or two that you enter. Say you're a graphic designer and you want to know what your potential clients are searching, just type "graphic design" into the search box and you'll see something like this.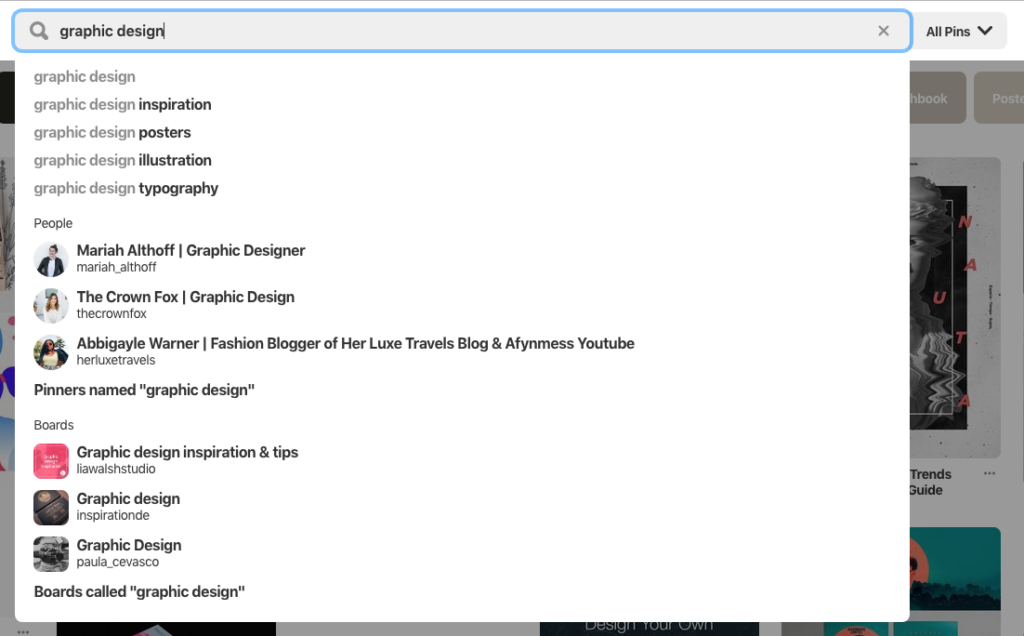 If you look at the predicted autofills, which include "inspiration" and "posters" (among others), you can see that there are probably lots of people who have been tasked with designing a poster and they're looking for inspiration. Why not include these types of words in your next blog post? You could write about inspiring poster designs and target that exact user! This will drive traffic to your website and increase your audience, because it's targeting people who are looking for the kinds of things you're offering.

Pinterest suggested keywords
Once you hit "search" on Pinterest, they will give you yet another keyword tool: the suggested keywords bar. This strip of words is a keyword research gold mine! In between the search bar and the results, you will see a horizontal line of words that are suggested keywords. Using the graphic design example again, it might look like what you see below.

If you're not including these in your tool belt for Pinterest keyword research, you're seriously missing out on free website traffic. These are suggested based on what people are actually searching for! And what's more is that some of them show what is called buyer intent (for more on this, check out why buyer intent is important). If you're a graphic designer and you're not targeting the words graphic design portfolio and graphic design business from this list, for example, you're not just losing traffic, you're actually losing clients and money. These are your potential clients, so you want to be sure you're the first graphic designer they see!
Pinterest boards (search options)
Another thing you don't want to miss out on is the search options. It might not seem like an apparent Pinterest keyword tool, but if you narrow down your search to just boards, it will help you see what is getting indexed really well. Here's our graphic design example again.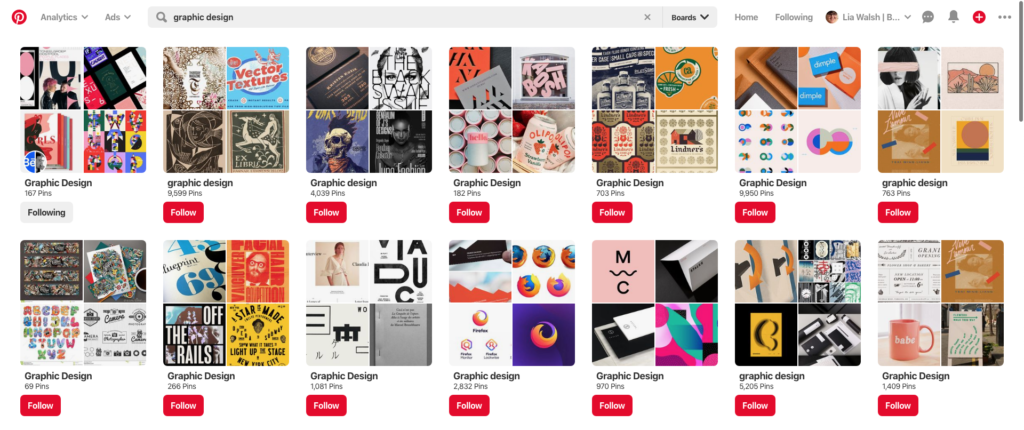 Notice something? That's right, all of the board titles in the first page are a perfect match to my search term. That means that if you're naming your boards after search terms, that'll improve your visibility, too.
From here, you can also click on the boards that rank right at the top to see what keywords they're using in their board description and on their pins. Look for patterns that you can emulate in your Pinterest keywords, so that you can rank higher!
In our example, we see that the same keywords are in the board name, board description and pin names, making Behance's graphic design board one of the top boards on the whole Pinterest platform. Worth following their lead, don't you think?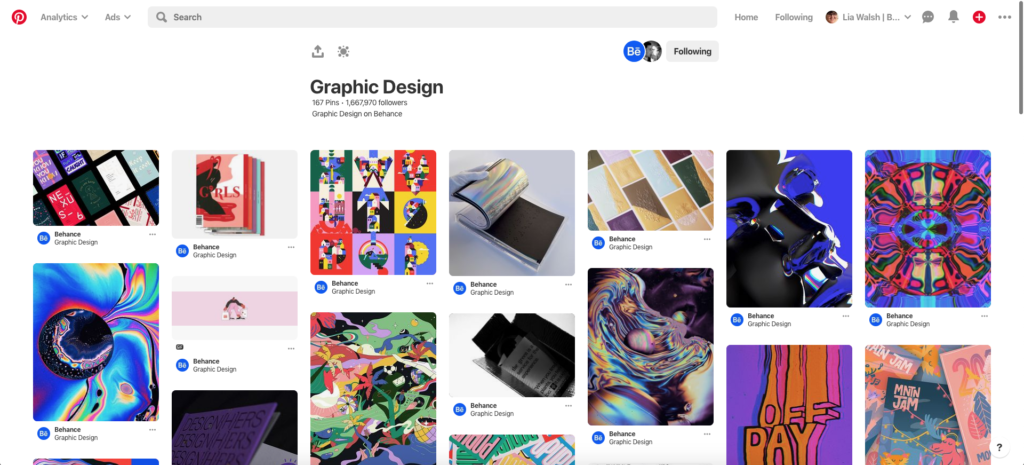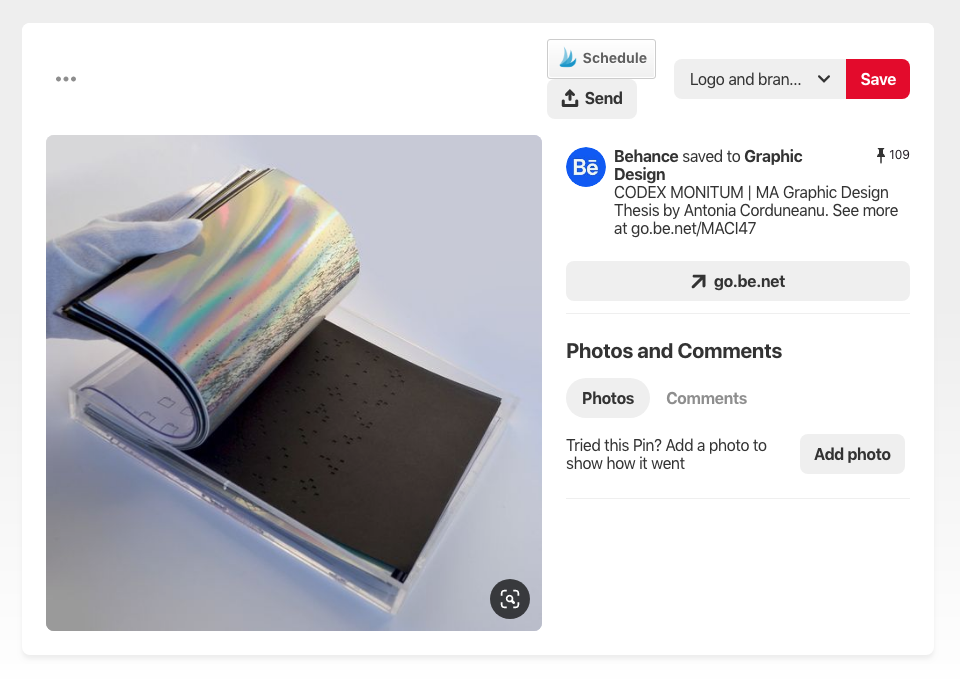 Pinterest "more ideas" (board suggestions)
Pinterest also has a really handy keyword tool under the "more ideas" tab on your boards. Check it out by opening one of your existing boards that you'd like to optimize for Pinterest SEO. Click the "more ideas" link under the board description and you'll get a list of related boards on the left. This list will tell you how Pinterest is reading your board. If you're getting totally unrelated things, try adjusting your keywords to target the right topics. If you're getting related boards, check out the keywords they're using, so that your boards can be recommendations to others!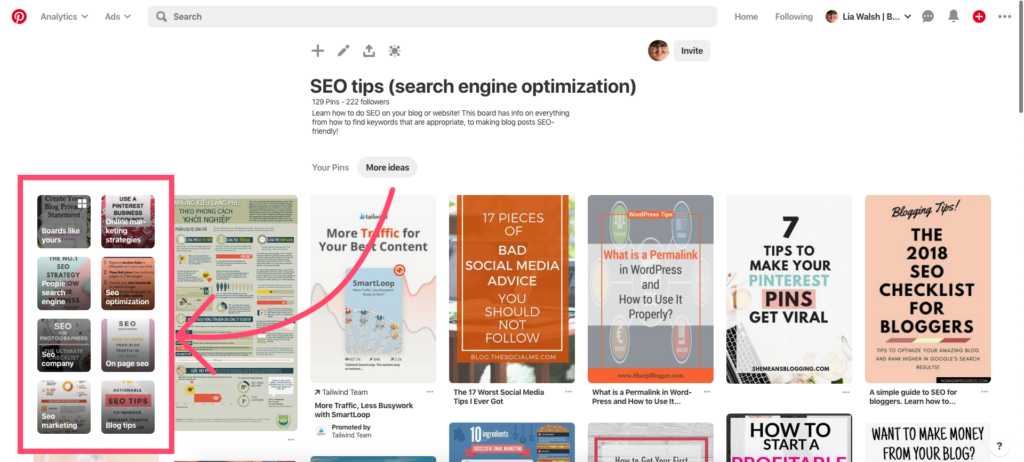 Learning from the best
Finally, one of the best things you can do to improve your Pinterest keywords is to learn from those who are already doing great! Find people in your niche who are showing up at the top of search results, and click through to their profile. See how they set up their bio, their board names and descriptions, and pins. Do this with a few top competitors to see if you notice any patterns. There is sometimes no better way to success than to seek inspiration from those who are already successful! And what's more, following industry leaders will always keep your skills up-to-date because technology changes all the time. Stay on top of the newest trends by making sure you're keeping up with the trendsetters.
---
Now that you've got all that you need to choose relevant and profitable keywords, check out my totally free Blog Post SEO Checklist to make sure you're using them in all the right places!
What other tools do you use to improve your Pinterest search rankings? Let us know in the comments!
Pin this for later!